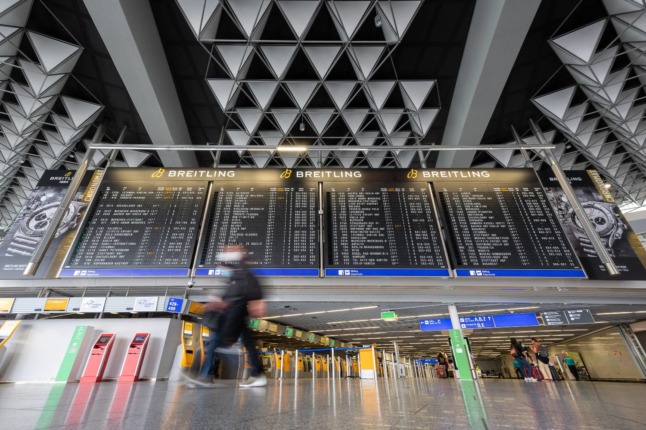 The UK government announced its relaxed Covid travel rules on Friday, meaning that vaccinated travellers from Europe to England would no longer need to take pre-departure tests, and can use cheaper lateral flow (antigen) tests for their 'Day 2' test after arriving.
However, there's a huge change that people in Germany have to be aware of after the UK government effectively shelved its traffic light system. The UK is replacing it with a single red list, with simplified travel measures for arrivals who have not visited a country on the red list in the past 10 days.
Most of the changes come into force from 4am on October 4th. These rules at present affect only arrivals in England, the devolved nations of Scotland, Wales and Northern Ireland have so far not indicated a change to their definitions.
Note that fully vaccinated passengers will be able to replace day 2 PCR tests with cheaper lateral flow tests from the end of October.
(article continues below)
See also on The Local:
What does it mean for unvaccinated people?
Previously and up until October 4th, unvaccinated people coming from Germany to the UK could skip quarantine, because Germany was on the green list. 
But soon unvaccinated travellers coming from Germany (and other European countries) to the UK will need to quarantine for 10 days and:
What does this mean for vaccinated people?
People who've been vaccinated in the EU and travelling from Germany will need to:
As mentioned, they will no longer need to take a pre-departure test, and can use lateral flow tests for day 2 later in October. 
What about those who've received one Covid jab and a booster shot?
While the announcement spells good news for many travellers who have been vaccinated in Europe, certain groups still face quarantine, despite being fully jabbed.
The UK's Department of Health and Social care confirmed to The Local that there was no change in policy or relaxation of those who had received only jab after recovering from the disease.
READ ALSO: Are you classed as fully vaccinated in the UK after having Covid and one jab?
There's some confusion over whether people who've received mixed vaccine doses in Europe (known as Kreuzimpfung in Germany) will be classed as fully vaccinated by the UK when the rules change. 
At the moment anyone who had one dose of AstraZeneca and then a dose of Pfizer or Moderna in a European country is not considered fully vaccinated by the UK government.
READ ALSO:
The current rules say:
If you were vaccinated with a 2 dose vaccine (such as Moderna or Pfizer) you must have had both doses to be considered fully vaccinated. Each dose must be with the same (MHRA, EMA, Swissmedic or FDA) approved vaccine. For example, if your first dose was Moderna your second dose must also be Moderna.
Those who have had COVID-19 and have only had one dose of a 2 dose vaccine must follow the rules for unvaccinated arrivals.
The UK's Department of Health and Social Care told The Local on Monday morning that these rules would remain in place. But the British Embassy in Germany posted on Facebook to say that "From October 4th travellers who have had a mix of eligible two dose vaccines (e.g. a combination of AstraZeneca and Pfizer BioNTech) will be recognised as fully vaccinated."
The UK does explicitly accept mixed doses for those travellers vaccinated in the following countries: Australia, Antigua and Barbuda, Barbados, Bahrain, Brunei, Canada, Dominica, Israel, Japan, Kuwait, Malaysia, New Zealand, Qatar, Saudi Arabia, Singapore, South Korea or Taiwan as well as those vaccinated in the UK. For more details click here.
We'll update you as soon as we have more details on the mix-and-match vaccine rules for those jabbed in the EU.